COVID 19 Information
We are still doing well child visits and encourage you to keep your children up to date on their vaccinations, especially those under 2 years old. We will make every attempt to limit contact in the office to other families.
We will continue to screen for sick patients and parents to prevent exposures to other patients and our staff for all visits. We may need to ask you to do some extra steps on arrival to help protect other families and our staff from potential exposures. You will be instructed as needed before entering the office. 
We strongly recommend that all families follow the guidelines for social distancing and increase diligence with hand hygiene. If you or your children are sick, please stay home. We are available to discuss your illness on the phone as needed and have limited ability for video telehealth visits. The illness has been incredibly minor for most pediatric patients, and symptomatic treatment is all that is needed. Preventing the spread of the illness by staying away from others, especially people over 65 years old and people with chronic health problems, until the symptoms are gone for 72 hours is the most important point - stay home unless there are signs of difficulty breathing.
A tradition of quality pediatric care delivered in a more comfortable and personal manner.
About Children's Faith Pediatrics
Since Dr. Rick Glover established this pediatric practice in 1996, it has grown and changed quite a bit. In 2002 a new name was adopted, Children's Faith Pediatrics. This name reflects a new vision and approach to the practice, recognizing our need for an unquestioning, child-like faith in God. In early 2001 Dr. Glover was involved in a mission project in which an infant from Belize, Central America came to Knoxville at 13 days old for removal of a large, life-threatening tumor. Although she died after the operation at just 19 days old, God used baby Faith to touch many hearts and change many lives. To honor baby Faith and all the other precious children we have cared for, we renamed our practice Children's Faith Pediatrics. 

We hope you will be reminded of your need for child-like faith in God each time we use this name. Our logo represents the fresh new beginning we receive as a blessing each day as the sun rises because of the empty cross at the top of the mountain. Our prayer is that we help your child with their medical needs while encouraging your family to draw closer to the Great Physician, Jesus himself.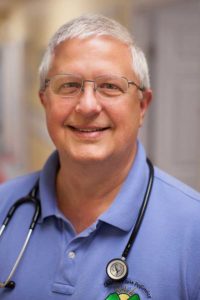 Rick Glover, M.D.
Dr. Glover grew up in West Knoxville, attending Cedar Bluff and Farragut schools. After graduating from the University of Tennessee at Knoxville, he attended medical school at U.T. in Memphis. His residency training in pediatrics was at LeBonheur Children's Medical Center in Memphis.
He served three years active duty at Columbus Air Force Base, where he was Chief of Pediatrics. Dr. Glover is married and has four daughters and several grandchildren.
Monday - Friday
Closed for Lunch 12:00pm - 1:00pm
We will be closed on these holidays: New Years Day, Memorial Day, July Fourth, Labor Day, Thanksgiving, Friday after Thanksgiving, and Christmas Day